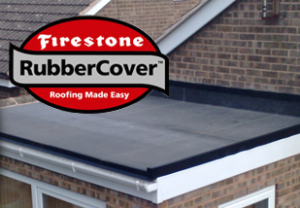 Firestone Rubber Roofing Systems West Midlands
Roof Repairs West Midlands specialise in all flat roof rubber roofing and maintenance offering a first class cost effective rubber roof solution for flat roofs and new flat roofs.
The system is based on high performing EPDM rubber membranes and a limited range of accessories offering a watertight and durable roofing solution.
Firestone Rubber Cover EPDM Roofing System is the ideal solution for small residential flat roofs and other extensions, verandas, dormers, porches, garages, carports, garden sheds, balconies, gutters and trailers.
We offer you an Firestone rubber roofing with unique properties:
Superior durability
Seamless sheets in 1 piece
Very low life-cycle cost
Flame-free and easy installation
High flexibility and elongation
Environmentally friendly
Recovery of rainwater
J & J Roofing West Midlands will start by giving you an estimate for the works you require and then if you agree we will then start the works at your convenience, we also only charge for works that has been completed no extra work will be undertaken without your agreement so the price that you are quoted will be the price that you will pay.
J & J Roofing West Midlands also undertake Emergency Roof Repairs so if you have storm damage to your roof either fill out the short Contact form (out of office hours as this gets sent straight to us by SMS Text message or during office hours you can do both) and we will be back to you as soon as we possibly can.